CASEY ANTHONY IS LOOKING FOR A HANDOUT – Florida courts have once again seen the face of Casey Anthony, the 28 yr. old woman who was acquitted of killing her two year old daughter Caylee because of a legal glitch known as the "Double Jeopardy Clause."
Casey, as she appeared today
Her appearance today was to plead her case for a much need bankruptcy.  Apparently she has not been able to work since her trial and has only $1,000 to her name. She needs to move on with her life you see and seems to feel she deserves a fresh start.  I'm not sure I agree.
Her lawyers were smart when they had her declared indigent before her trial, forcing the state to bear the financial responsibility, while they provided her with an experienced legal team; no Public Attorney for high profile cases.  They expect to be paid.
In light of the fact that the attorney can still charge, I think it would only be fair that when an attorney takes a high-profile case like this, that they sign an agreement to waive their fee if the client claims to be indigent.  It seems like the right thing to do and would then avoid situations like what is happening now.  Besides, between the publicity which will increase their legal cases whether they win or lose, there is still the probability of consulting on a book, TV or movie in the future.  With those benefits, it seems a fair exchange.
Take OJ Simpson and his trial back in 1995.  His defense team declared him indigent and the County of California was forced to foot the bill for his trial which lasted nearly a year at a cost of over $9 million.  Contrast that to the under $500,000 for Anthony's six week trial that is now the responsibility of Florida taxpayers.
Pssst……For all you Kardashian followers. their father, Robert Kardashian was a volunteer assistant lawyer during OJ's trial.
Casey during her trial
Are you interested in knowing why Miss Anthony has remained in Florida? Maybe it was for the fresh air and sunshine.  No wait, she has been in hiding.  It was for the sole purpose of her outdoor excursion today.   Florida is legendary for its lenient bankruptcy laws and the only requirement to file is that you must be a resident of the state.  I have no doubt that her legal team advised her to stay a resident until her affairs were settled.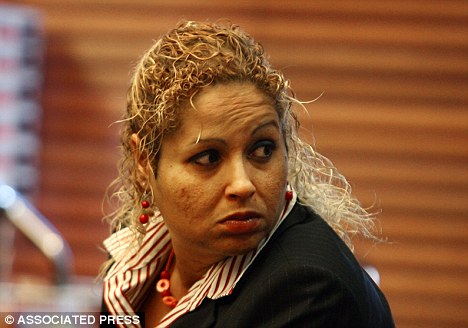 Zenaida Fernandez-Gonzalez is suing Anthony for defamation of character
Now, I am no attorney but I have known people who declared bankruptcy and you must bring all your to the table for the court to look over and approve.  With two lawsuits pending I fail to see how she can be allowed to proceed with a financial discharge.  She must be feeling lucky that they will be dismissed. She also owes the IRS and they tend to be sticklers when it comes to what they consider their money.
It costs money to file bankruptcy: about $1800 for Chapter 7 that clears you of all responsibility.  Chapter 13 re-orgnizes your debt and comes up with a payment plan for what is owed.  Anthony's judge must question any future monetary gains from book or movie rights and hopefully there will be something written forbidding her from EVER profiting over her court case and Caylee's death.
Casey and her deceased daughter Caylee       
 Justice failed little Caylee and now her mom is looking for a financial pardon.  A  form of justice would be served with restitution through Chapter 13, even if the amount owed were decreased.  We cannot allow her to simply erase all evidence from her life of what has taken place these last four years.  It is not fair.
Little Caylee
One fact remains, even if she is awarded with a clean slate there is no place she can hide and with a $50,000 bounty on her head, Casey Anthony will be watching her back for a long time.