THE BOSTON BOMBING: IS THERE A SAUDI ISLAMIC CONNECTION? – It was Saturday when a friend sent me a video that inspired the following article and today's continued look at the events surrounding the Boston Bombing.
Read:
What Truths Are Hiding Behind The Boston Marathon Bombing?
Glenn Beck's Monday deadline has come and gone with no response from the Obama administration and true to his word, Beck is taking time each day on his radio and TV show to discuss the pieces of the puzzle and what they imply about the state of our country and those running it.
Please keep in mind that although you may have not heard, seen or read some of the facts he presents that they were reported in some region of the United States.  The reason for discrepancies lies within the chaos and multitudes of news teams at the scene; with each one grabbing snippets of information as they were given or overheard and reporting them immediately.  With few press conferences there was such a small blanket of information given that news teams were desperate for information and hit up every source they could to add to their news coverage.  Beck has gathered and lit up the facts as they were presented in hopes of a response from the government about these events.
 Radio and talk show host Glenn Beck
To read the full story:  Theblaze.com
The Saudi Connection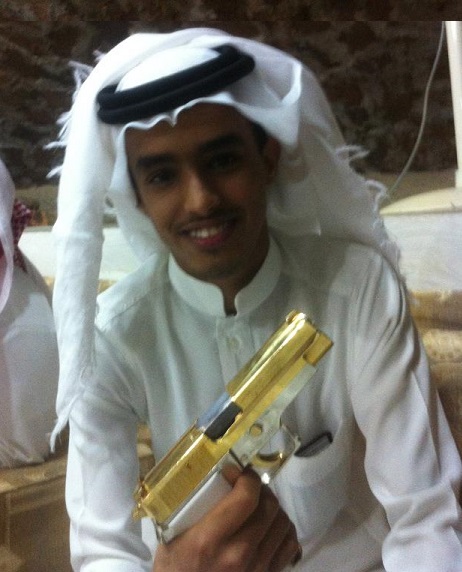 Abdul Rahman Ali  Alharbi
While the Tsarnaev brothers were found to be guilty of the Boston Marathon Bombing, Beck also believes that the Saudi male,  Abdul Rahman Ali  Alharbi who was first questioned immediately following the bombing may have been the mastermind or the money behind the event.  Unanswered questions still surround the reasons why it was announced he was a Person of Interest (POI) and then suddenly all charges were dropped.   In fact, according to DHS, Department of Homeland Security, he was falsely accused, released and at present they are not aware of his whereabouts.
Alharbi was here on a student visa and according to his paperwork was attending school in Findlay, Ohio.  The school has no record of him as a student or even applying to attend there.  In response, news reports are saying that he was transferring to a Boston school.  Hard to transfer when you aren't where you are supposed to be and by the way, where has he been living and what has he been doing since he arrived in the States?
Well, we know he managed to set up a Facebook page and on it last year he asked the following question:
"If Today Really Was the Last Day, How Would You Spend It?"
Meanwhile in Boston:
Dzhokhar Tsarnaev
Dzhokhar Tsarnaev, the 19 yr. old bombing suspect is said to be recovering and is cooperating with authorities from his hospital bed.  Unable to speak due to what appears to be a self-inflicted gunshot wound that may have been a suicide attempt, Tsarnaev is responding through writing and nodding his head.
At this time, authorities are claiming the two brothers worked alone and that there are no apparent ties to any terrorist organization and yet, they have not given an alternative reason for these brothers to take this action.  Again, it seems as though their identities were given to authorities by Alharbi in exchange for his freedom.
Outside of the US news sources like the Mirror News are reporting that:
 A [law enforcement] source close to the investigation said: "We have no doubt the brothers were not acting alone. The devices used to detonate the two bombs were highly sophisticated and not the kind of thing people learn from Google".
The Muslim Connection
In these days of political correctness, it is considered rude to accuse a Muslim of any wrong doing, and yet looking at these three men there is a direct connection between them and the Muslim religion.  The Tsarnaev brothers were not raised Muslim, it is not the faith of their family.  They were drafted, indoctrinated into the extremist way of thinking and either given a mission to carry out or designed one of their own to prove their dedication to either themselves or their group.
Another international news source ( International Business Times) reported that the FBI is hunting a 12-man terror cell that may be linked to the brothers, which stands in direct contradiction to what the American public is being told.  Is it still a security issue when outside countries know more about what our government is doing than we the people, or is it simply a sign of an ever increasing expansion of government control on its people and censoring of the news?
There is no denying that the Muslim religion has spread to every country and continues to grow, bringing their customs and culture with them to influence their surroundings.  Many times they are an asset to the community and I think it is only fair to ask those of the Muslim faith who practice in peace and love to either bring discipline to those they know are extremists or to quietly inform authorities of a person or group who may be a threat.
Read:
Racial Hatred and the Fear of Muslim Terrorists
Muslims and the Hate They Incite Against Christianity 
Muslim Demonstrators in London Incites Violence
It is time for the Muslim population to begin regulating themselves, for if a Muslim truly considers where they are living as their homeland, they should seek to protect it and its citizens.  To not govern themselves and show that there is a distinct difference between a practicing Muslim and a Muslim extremist is to do a disservice to every peaceful Muslim and his faith.
No numbers have come out based on the religion of the runners or spectators in the Boston Bombing but it is conceivable that at least one Muslim would have been affected.   Unless of course there was a warning given to all Muslims to stay clear of the area that day, which then lends itself to the idea that all Muslims are the same.
A s I sift through the facts presented at the time of the bombing and the modified facts that are being spoon-fed to the public now, I see holes in the story that do not line up.  There are questionable actions from President Obama, his wife and his administration and yet, they are choosing to remain silent; no doubt in the hopes that in time Beck will stop ringing the bell and the controversy will simply go away.
I have concern for our FBI and Homeland Security Teams who are putting their lives and reputations on the line everyday to keep us safe.  If I am questioning the government with what little I know, how must they feel at the hands of such a group?  Trust me as I echo Beck in his opinion that in order for resolution to some of these questions, the blame will need to fall somewhere and we can be sure that the Obamas will slither away from anything that can be pinned on someone else.
As we wait and watch for more answers and action to take place, there is no assurance that justice will be served in this case.  Even if Dzhokhar is convicted there is still the chance that he may only receive a life sentence, rather than the death penalty.  The Boston Bombing and all the controversial events surrounding it have some Americans seeking answers while others simply shrug and go on with their lives.  I admit that there are many points that Beck makes that have me thinking and concerned.
With the rise in terrorism around the globe and a government that is becoming increasingly more secretive and corrupt the American people need to make a stand, demand answers and seek justice about what is occurring within our own country.  We need to be educated and aware of the actions of our government.  The rest of the world judges us all by what they see and read, shouldn't we know the same information that is available to other countries?
Research the Internet and newspapers from around the world.  Weigh the facts, listen to the silence from the US government and make your own decision about the turn of events.