BOSTON MARATHON BOMBING: TIME FOR A NATION TO HEAL – The Boston Marathon is a historical race that has been held since 1897 and is one of only six holding the title of World Marathon Majors.  Inviting competitors from around the world to join in the race and all its festivities, running this race is a big deal and to be part of the cheering crowd is inspiring and life affirming. This year the Marathon Committee chose to dedicate the 26.2 mile marathon to the 26 victims from Newtown who lost their lives in the Sandy Hook School shooting last December.
An invitation went out and the families of Newtown saw this as an incredible opportunity to be part of an event that they otherwise may never see and made their plans to attend. A running group known as Team NewTown Strong signed up to run in the marathon.  The group raises funds to provide scholarships for the relatives and siblings of the Sandy Hook victims and wore shirts that bore the name of each of the 26 victims as they ran.
Read:
The Killing of Innocence: Sandy Hook Elementary School
FBI Release Images of Suspected Boston Marathon Bombers
T-shirts worn by Team NewTown Strong honoring the victims of the Sandy Hook Elementary Shooting
A special VIP section was erected near the finish line and several of the families chose to watch from there, while others took up posts at different points throughout the race, as the cheered on each runner.  Runners also cheered on one another as they progressed through the course and for those from Newtown each mile represented a life that was cut short, but will be remembered.
This banner, posted at the 26th mile, was dedicated to the Sandy Hook victims and features the town's seal surrounded by 26 stars.
It was to be a time of healing, celebrating life and remembering, but just like on that fateful day last December, the unexpected happened and suddenly lives were changed once again. Several runners had completed the course before chaos broke out.  With the sound of explosives, smoke and cries of terror one can only imagine how these families were thrown right back to the trauma of that day when a shooter entered their local elementary school.  Just as they were beginning to heal, the wounds have been opened again. Hear their words as they describe how they felt.
Teri Alves, a teacher at Sandy Hook—  "The Boston bombing stirred fears that I had long been trying to repress'.
Runners from Team NewTown Strong:
Laura Nowacki—   "You saw the police cars and heard the sirens; it felt like living in a war zone, the same way it was at Sandy Hook," she said. "It was an awful thing to relive it all over again
Judy Toussaint—   "I'm tired, not only from the marathon but emotionally as well"
David Oelberg—   "When you turn down Boylston and see that finish line, there's nothing but sheer happiness in your mind and that's forever going to be stained in mine."
Ed and Valerie Lucas—    "we are still in shock."
How do you recover from not just one traumatic event, but two?  For those who are healing from events in Newtown, at the Boston Marathon and the plant explosion in West, Texas –allow yourself to grieve and give yourself time to heal.  Everyone is different and will overcome the effects of trauma in stages, so don't rush the process.  Reaching out to others or making the decision to speak with a counselor if necessary are avenues for healing and signs of strength, not weakness.   We all can use a helping hand at one time or another.
Read:
Federal Authorities Closing In as Boston Marathon Bomber is Trapped Phone
Conspiracies Surround Boston Marathon Bombing
Boston Marathon Bombs Were Pressure Cookers Filled with Ball Bearings
Only 8 Years Old and Murdered by Boston Marathon Bomb Terrorist
Boston Marathon Bombing Bloodbath
Most of us will never go through such a tragedy in our life, let alone twice like these families from Newtown, but we can still be deeply impacted by what we see and hear on our news sources.  In our high-tech, fast-paced world, we can be inundated with too much information.  The events of this week have news stations working around the clock to give us the latest information, video footage, personal accounts and expert testimonies.  It is easy to become overwhelmed and at times fearful.  One way to battle emotional overload is to take a break from the news.  Our brains can only process a certain amount of information and it needs a rest from too much stimulation.
The One Fund was established by Massachusetts Governor Deval Patrick and Boston Mayor Thomas Menino to raise money for victims and families who have been affected by the Boston Marathon tragedy and is another way to get your donation into the right hands.
Experts also agree that by becoming pro-active we can feel empowered and avoid falling into a state of depression.  An excellent way to do this is to attend or organize a prayer service or candlelight vigil in your community.  Running groups across the country are planning charity runs with the monies collected to be sent on to Boston.   You could make a donation to the Red Cross, the Salvation Army or The One Fund.  Whether this is a personal donation or if you plan a fund raising event, the idea is to be a vessel of change in a time of trouble.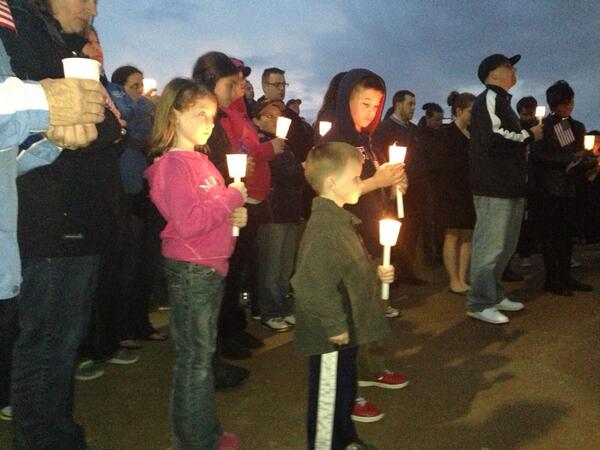 If you use social media, be the positive person who encourages others.  Don't get wrapped up in the anger and hatred that so commonly comes out during times like these.
Massachusetts Governor Deval Patrick put it well when he said,  "We will grieve our losses and heal. We will rise, and we will endure. We will  have accountability without vengeance, vigilance without fear."