CELEBRATE SAINT PATRICK'S DAY – It's Saint Patrick's Day and whether or not you are Irish you may find yourself celebrating it anyway.  It is one of those holidays that calls for fun, laughter and a wee bit of naughtiness.  Why even US President Barack Obama recognizes the contributions the Irish have made in America and in response has written a proclamation declaring March as Irish-American month.
If only I had learned this sooner, I would have had the benefit of the full 31 days of celebration, but I am sure I can make the most out of the remaining 14.  Being of Irish heritage myself, I have a strong identity with all things green and filled with merriment.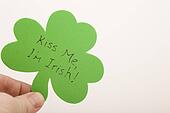 Traditions and customs surround the Irish as much as superstition and strong family ties.  From the wearing of green to the drinking of beer there are more ways to celebrate the day than there are Irishmen, so take a look at the following list and see what peaks your interest and give it a try!
Be sure to find a shamrock to wear.  Green clothing is an American tradition and although it is fun, for a real Irish look either make or buy a shamrock to wear on your clothes.  The shamrock symbolizes the Holy Trinity.
Have a beer or two (one for each hand) and tint it green.
For a true Irish dish, skip the corned beef and cabbage dinner that is America's version and try the real deal:  Bacon (preferably boiled) with a side of cabbage and if you are lucky, fried potatoes.
Go see a parade.  Many cities will hold parades filled with floats, bands and dance groups.
Capture a Leprechaun and he will have to grant three wishes or part with his much cherished pot of gold.   How do you catch a Leprechaun?   They love shiny objects like jewelry and coins, so just before dusk, scatter a mixture of shiny objects near the base of a tree or bush and watch for the twinkling lights that signal their presence.  Better be quick, they are fast creatures!
Share a few jokes:
Q:  Have you heard about the Irish boomerang?
A:  It doesn't come back, it just sings sad songs about how much it wants to.
Q: How many Irishmen does it take to change a light bulb?
A: Three. One to hold the bulb, one to screw it in, and one to say how grand the old one was.
Find a place filled with Irish (Celtic or Gaelic) music and dancing; think Riverdance.  Learn a new song and a few dance steps while you make new friends.
One last tradition and by far my favorite, is to bestow an Irish blessing:
Wherever you go and whatever you do, May the luck of the Irish be there with you.  Happy St. Patrick's Day!