EXPLOSIONS ERUPT AT THE BOSTON MARATHON – Pictures are coming out quicker than facts after today's dual explosions at the famous 117th Boston Marathon.  The event brings runners from around the world and attracts tens of thousands of spectators who line the streets to get a glimpse and cheer on runners as they pass by.
Unfortunately today's race included two explosions that were in close proximity of each other and occurred within seconds of one another killing 12 and injuring more than 100 according to the latest reports..
First to respond to the scene were Boston police, bomb squads and the fire department who were quickly joined by ATF and the FBI who are now working to minister aid to the injured and searching for additional hidden bombs.  Spectators still on location are dazed and not sure what to do.  As the police work to clear the area there is a heightened sense of alarm and disbelief in the crowds.  Bystanders are being asked to evacuate the streets and allow the various responding teams to do their job.
Since 911, whenever there is an event that will draw large crowds, extra precautions are taken that include an increased police presence and the simple measure of removing public garbage cans from the streets.  Why?  We have learned from the UK that garbage cans are handy and an easily accessible hiding place for a bomb.
Read:
Boston Marathon Bombing Bloodbath
London Marathon Will Go Ahead Despite Boston Bombing
FBI Release Images of Suspected Boston Marathon Bombers
Britain, who endured street bombings in the late 70's and then again in 2005 has since removed public garbage cans until recently.  With improved technology a bomb-resistant garbage can that is designed to reduce impact by containing the explosion has been created and is now being used by Britain.
In light of today's events, it is certain that Sunday's London Marathon will come under extra scrutiny and protective measures. In addition, participants in today's race from the UK are said to be unharmed from these events.
"Somebody's leg flew by my head. I gave my belt to stop the blood," spectator John Ross told The Boston Herald.
Social media came into play quickly after the explosions filled with updates from news sources, tweets of condolences from around the world and status reports from various runners as they confirmed to family and fans that they were not injured.   Cell coverage was suspended shortly thereafter as a precaution–since cell phones can be used to detonate additional explosives.  Rolling coverage will be restored as areas are searched and deemed safe.
Adding to the trauma and impact of the event is the fact that families from Newtown, Connecticut — the site of a mass school shooting last December — were seated in the VIP section near the explosions.  Along with the suspension of cell service, tonight's Boston Bruins hockey game has been cancelled and much of Boston is currently on lock down. No one has claimed responsibility for the bombings at this time although a "person of interest" is being held and guarded at one of the hospitals.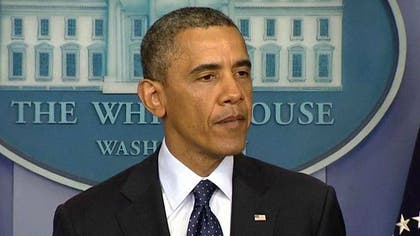 Obama vows those responsible for Boston explosion will feel 'full weight of justice.  I just want to reiterate we will find out who did this and we will hold them accountable.'
This was a horrific event and its impact will be felt by most of us until the facts are found, brought out and justice is served.  For those who were in attendance and their families it will never be forgotten.
This is a continuing story that will unfold over the next several days to weeks.