HOW SAFE WILL YOUR NEXT FLIGHT BE? – In a backward step the United States-Transportation Safety Association (TSA) is relaxing restrictions of some boarding items as of April 25.  At first, you would suspect that your bottled water or maybe your hand lotion would be able to go on board with you, but no, in fact it is small knives, golf clubs and hockey sticks, bats and ski poles that are to be allowed.  Surely this must be a misunderstanding, it sounds insane.
Read: Foxnews - Flight attendants fight back against TSA knife policy
Using the excuse that check-in lines will be quicker hardly seems to make sense either.  The knives will still need to be displayed, measured and I have no doubt there will be agitation when someone is told that their knife is too large and it is confiscated.  Yeah, I don't think the lines will be moving any faster.
And what happens once everyone has boarded?  Obviously clubs and such will go into the overhead bins, but a pocket knife remains in the passenger's possession.
Prior to 9-11, I would not have given a pocket knife a second glance; most gentlemen carry one.  Now however the world and our perceptions of safety have changed.  The idea that anyone can have a small blade on them is a bit unsettling; especially given the fact that on a flight you are in a confined space with nowhere to go and little opportunity for anyone to intervene should there be trouble.  Let's not forget the fact that you are in the air.  No, I do not think this is a good idea and many stewardesses agree since they are the first line of defense and help on an airplane.  Yes, bats and hockey sticks can also become potential weapons but the sheer fact they will be out of reach makes it less likely.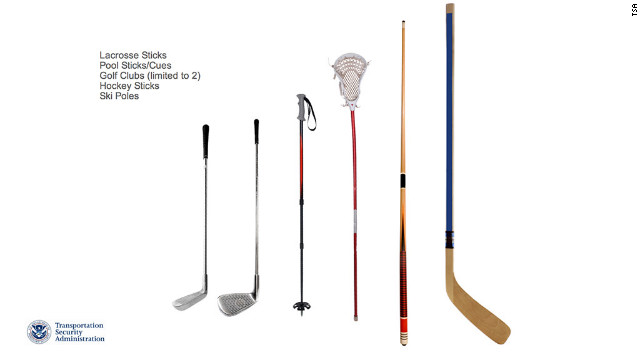 Another concern which should be addressed involves having swing-able objects handy in the airport.  I find this particularly unsettling, especially since chaos has erupted within airports before.
Birmingham, England 2008:  A man is stabbed in the head and two others injured during a fight.
Sydney, Australia 2009:  A metal stand was used as a weapon to bludgeon a man to death.  To death.
Moscow 2010:  Two different airports there experienced cancelled flights due to weather and after several days of being stranded, passengers became irritated from lack of sleep, improper meals and frustration.  Fights broke out within the airport.  It was bad, but could have been much worse if they had access to bats or clubs; especially around the holidays when the airports are packed with anxious travelers.  Talk about a mob mentality.
In order to be efficient and effective, TSA should review and revise their guidelines.  In looking at protocol in airports of other countries I found of particular interest that:
Canada uses hand swabs for explosive testing in addition to metal detectors, body scans, physical searches and bin rays of your personal belongings
Israel relies upon the appearance and behavior of the traveler because body language speaks volumes.  From the moment you enter the parking lot questions are asked and you are observed.  Boarding passes are received only after you have passed all security stations.
Additionally, if slow lines are the real concern for TSA, let's look at the time it takes to board and depart from an airplane. There is nothing that slows a boarding line as much as the passenger with long or bulky items needing the overhead baggage area. I have had the surprise of being knocked in the head by falling objects while the owner wrestles with their package, trying to get it either in or out of the overhead compartment.
I have seen short women who can barely lift their carry-on bag try to maneuver it up and over the seats into the overhead, only to find myself either cringing or ducking out of the way, depending on where I am seated.  If TSA was concerned about safety, this is an area that could use a review.  How about a length and weight limit based upon the person?  I know, I know, there already is a weight limit, but when it is a carry- on and will be stored in the overhead, the person should be asked to lift it over their head and if they cannot then it must be checked-in.
Over the past decade, with multiple restrictions and heavy security, airports have become the single safest place where large groups of people can be gathered and around the globe, airports have worked hard to protect their employees and customers.  I shudder to think of the repercussions this seemingly simple revision holds.