Mans Best Friend
MANS BEST FRIEND – Dogs and humans, humans and dogs; it seems we cannot get enough of each other.  I read recently that many people outside of the United States think us Americans are crazy when it comes to the relationships we enjoy with our dogs.  It is true; the dog holds a place of honor in our homes and in our hearts. From the working dog to the pampered pooch, we are emotionally attached and reliant upon our canine companions.
No other animal can be trained or interact with people the way that dogs do.  Service animals enable the handicapped to function both within their home and outside when in public.  K-9 police dogs who sniff out drugs or explosives are completely dependent on their handlers for both safety and instruction.
Search and rescue dogs find lost children or adults in the worst of conditions.  Herd dogs on farms are an invaluable asset to the ranchers and the animals they help tend. Different breeds are better suited for various tasks, but nearly any dog can be a wonderful pet within the home.
Dogs serve many purposes but most of all, they fill our lives with love.  The reasons for dog ownership are many and there are just as many available dogs.  If you are searching for the perfect family pet, visit your local animal shelter.  They can guide you to a breed that will be suitable for your family and home environment.
Have you met Tasuku, a young Japanese boy and his French Bulldog, Muu?  The pair is fast becoming internet celebrities and is a nice reminder of how special the companionship between a boy and his dog can be.  The following is a photo gallery of dogs and their owners, with the first being of Tasuku and Muu.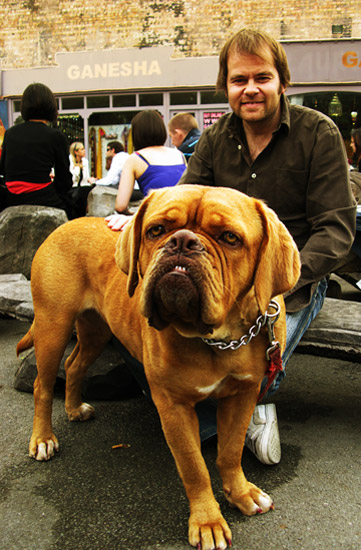 "There is no friendship on this planet as intense, profound, and finally mysterious as that between dogs and humans" (Masson)
---
---