ONE CLEVELAND GIRL STILL MISSING - Every year, thousands of children go missing worldwide and in the city of Cleveland, Ohio they lost four of their daughters in a span of five years from one neighborhood alone.  A devastating loss that crushed families and put everyone on their guard.  Three of those families experienced the dramatic return of their loved ones earlier this week.
Read:
In a follow-up to this story, all three girls are doing well and both Amanda Berry with her daughter (fathered by one of her captors) and Gina DeJesus are now home with their families.  Michelle Knight has been kept at the hospital due to anxiety issues but she is expected to be released soon.  The media has been respectful in keeping their distance as each family is working to readjust to one another.  The police and FBI are also treading lightly with questions until each girl has been evaluated by a therapist who will help them with detailing their experience for authorities and in becoming comfortable with their lives now.
As much as we all want answers, many of them will need to wait for the mental safety of the girls, including Amanda's daughter who naturally does not understand what is happening, nor where her daddy is.  The primary focus right now is on the Castro  brothers and on the home where the girls were held all these years.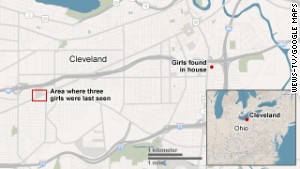 Area all 4 girls were last seen and where 3 of the girls were found
Not one of us can grasp what these young ladies have gone through or the dark days that have engulfed those who loved them for this past decade, and it is nothing short of a miracle that they have found their way home, but Cleveland wants one more; just one more miracle for there is still another "Cleveland Girl" who is missing.  With renewed hope for a positive outcome the Cleveland police, FBI and area residents are once again inspired and reminded to be on the watch for Ashley Summers.
Ashley has a tattoo on her upper arm of a heart with the name "Gene" inside
Ashley Summers was only 14 when she went missing on July 6, 2007.  She lived in the same neighborhood as the other "Cleveland Girls"  and over the years it has been suspected that she was with Berry, DeJesus and their abductors.  When Summers was first reported missing, it was noted in the beginning that her circumstances were different in the fact that she left home on her own after an argument, compared to Berry and DeJesus who simply vanished.  This put her status as a runaway rather than as a missing person or suspected child abduction, so in her case as in the others, no Amber Alert was issued.  Also in contrast to the other cases, Summers made contact with her family a month after her disappearance and told them she was OK and not to worry.
An incident in November 2007 changed all that when her step-grandmother believed she spotted Summers in a car with hair that was shorter and dyed blonde.  When no further contact came from Summers to family or friends, police began to suspect she was being held against her will, and because of her young age her status was changed to that of a child abduction.
With the similarities in age, appearance and the location of residence, police assumed that Summers' disappearance was connected to that of Berry and DeJesus.  Over the years, with no leads or contradictions to their first assumption, police have never thought otherwise.  When the first reports of three women being rescued first emerged the identity of Berry and DeJesus were confirmed quickly, leaving the third victim unidentified.  Since the girls had long been considered taken by the same man, her family naturally assumed Summers was the third captive and it was a shocking and disappointing moment when it was revealed that the third woman was not in fact Ashley Summers.
Ashley's grandmother, Theresa Harris said she hopes the reemergence of the three missing women will bring  about new information regarding the disappearance of her granddaughter and she clings to the fact that these other women have survived all these years and found their way home.  She is still waiting for Ashley.
Left: Ashley Summers age 14 in 2007 | Right: Age-progression  image shows how Ashley age 19, might look today
Thankfully, most of us will never know the heartache of losing a child in this manner.  That fact may make it hard for us to relate to the pain it causes.  The only similar experience I have had was being at the beach one day with my children when suddenly I realized my 4 year old was not by my side playing in the sand.  I don't remember seeing him walk off, there was no sixth sense that made me look up at the moment he decided to leave; he was just gone.  What I do remember is the horrible grip that took hold of my heart when I turned and didn't see him, as I quickly scanned the beach hoping to catch sight of him and then, as I frantically looked to the water for his little blonde head.  I barely recall giving people his name and description as they too searched for him.  He was found twenty minutes later in a small group of children less than ten feet away, happily munching on some chips with his new friends.  My experience pales in comparison I know, but it does open my eyes and heart to have had a taste-even so briefly, of what each of these families who have missing children face every moment of their lives.
Read:
The reality of these stories is a reminder that there are missing children who may be living near us.  With the sheer number of abductions that take place, it is conceivable that any one of us will come across at least one of these children during our lifetime.  Wouldn't you want to know?  I hope you took the time to read the article above and carefully looked over the photos.  Additional information on recent abductions can be found on missingkids.com
We at meebal celebrate with these families who are re-united with their loved ones and ask that you would join us in the search for the many others who are still waiting to find their way home.
If you have any information please call the FBI:  216-522-1400,  your local authorities, the embassy, or local consulate.