PRINCE HARRY VISITS THE UNITED STATES - It was amidst fanfare and photographers that Britain's Prince Harry began his much publicized visit to the United States.  Here on official business, His Royal Highness Prince Harry spent every moment attending engagements on behalf of charities with which the Prince is closely associated, on behalf of Her Majesty's Government, establishing relationships with political figures, getting familiar with our country and wowing the crowds of people who came to catch a glimpse of a real live prince.
For most Americans, British Royalty puts us in awe.  We love the accent, the clothes and the dignified character associated with the Royal Family and is often lacking in our own leaders. To have a young, bachelor Prince among us put many young ladies on pins and needles.
"He's really cute,"  one young lady said, adding that he was "respectful, but I would expect that from a prince."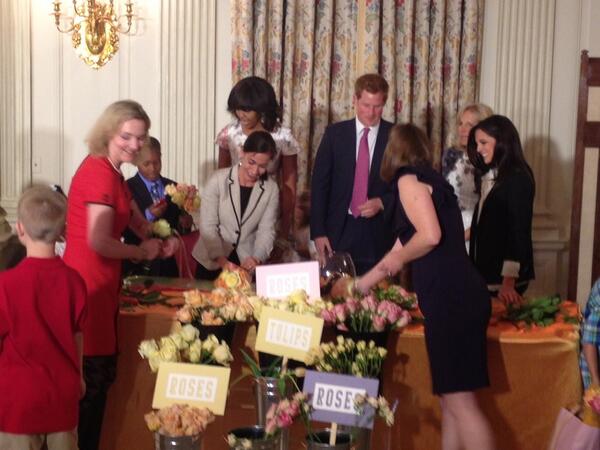 The Prince is the center of attention at this Mother's Day lunch
Prince Harry began his visit to the US at the White House where he met with the First Lady and failed to meet with President Obama who was out pushing his healthcare plans on the public.  Again, our president has shown his disdain for anyone he feels will not help him get ahead in his political career.  On behalf of the citizens of the US, I apologize for the president's lack of respect for the Prince, the office of the presidency and the American people.
Despite that turn of events, or perhaps because of them the prince was a hit when he attended a luncheon for military families.  His recognition of their sacrifice as their spouses serve revealed a keen understanding and taking the time to meet with each one individually gave testament to the burden he feels to reach out to those in the military.
Prince Harry speaks with a competitor in the Warrior Games
Serving in the military himself, The Prince is personally aware of the sacrifices that men and women in the Armed Forces make on behalf of their countries, and one of his stops included a visit to Colorado and the US Air Force Training Academy to attend the Warrior Games which are designed to encourage injured service men and women to compete athletically.   He had an easy way about him as he spoke to and encouraged competitors, and is seen above speaking with a serviceman in the hand cycling event.
It is enlightening and heartwarming when you witness such a well-known figure engage in one-on-one contact with the public.  Although the Prince was accompanied by heavy security and each stop had restricted public access, he never once gave the impression of self-importance or that he was fulfilling an obligation.  His concern for the vets and their recovery was evident by his demeanor and conversation.
While at the Academy, Prince Harry took some time out for some fun by joining in on different games and helping to form the bottom of a pyramid as part of a cheerleading display.   His presence at the Opening Ceremonies reinforced his position that the wounded deserve recognition and his support for the charities targeting military personnel.
A trip to Arlington Cemetery, a military cemetery, showed the Prince walking the grounds in quiet meditation.  Having been on the field himself, it was clearly evident how deeply he was touched by the life each grave marker represents.  During a special service that took place at Arlington, he laid a wreath on the tomb of The Unknown Soldier.
His final days were spent on the upper East Coast spending time in New Jersey visiting the two areas hit hardest by Hurricane Sandy last year.  During his visit there, he was escorted by Governor Christie to survey the damage the storm left behind.  Although he paid close attention to his surroundings, this young Prince quickly reached out  shaking hands with emergency personnel and construction workers on the scene.
One handwritten sign read: "Prince Harry please come back when we're restored."
Emotion was visible on his face as the Prince looked at the devastation still needing to be cleared.  As he spent time meeting many of the families who are working on rebuilding their lives and their homes, his mood shifted once again to meet the needs of the situation.  Tirelessly he shook hands and spoke with the crowds that gathered and offered words of hope and a joke or two.  Among one of the families who met with the Prince,  one young lady who is smitten with the man revealed that said she had visited London and studied royal history but came to see Harry for one reason: "cause he's my future husband."
After arriving in New York,  the Prince spent the afternoon on a baseball field in Harlem to help raise awareness for Project Coach,  a community program that partners two groups, the Harlem RBI and the Royal Foundation of the Duke and Duchess of Cambridge and Prince Harry.  While there, he played catch and a game of T-ball with the younger children much to their surprise.
Princes are usually in castles, doing something important. Who would have time to play baseball?
Later in the day, the Prince met up with British Prime Minister David Cameron to attend events promoting British trade, tourism, entrepreneurship and philanthropy.  At a reception given by the American Friends of The Royal Foundation, Prince Harry  emphasized the Foundation's goal to impact society at home and abroad.
Giving us one last shot of his athletic side, Prince Harry concluded his US tour with a rousing game of polo, as part of a charity fundraiser set up by the Prince along with Prince Seesio of Lesotho.  The Princes took to a horse and competed in the Sentebale Royal Salute Polo Cup, in memory of their mothers with all proceeds going to aid the needy children of that African country.
"He is well loved here."
It was quite a whirlwind of activity for Britain's Prince and Americans were not shy about wanting to meet him or shake his hand.  His itinerary was packed and yet he never appeared tired or distressed by the events that left him very little down time for relaxing.  He represented the Crown beautifully, was articulate, generous and compassionate.  This is not the side of Prince Harry we are accustomed to seeing and it was refreshing to know that he can handle these types of events at his young age.
The United States was honored to have him as our guest and we look forward to future visits.