SINGING NURSE ADMINISTERS KINDNESS – Most of us dread the thought of being in the hospital, even for the birth of a baby; and how wonderful for Henry Mayo Newhall Memorial Hospital in Valencia, California that they have Jared Axen on staff.  Jared has been dubbed "The Singing Nurse" and is known for singing in the hallways as he completes his rounds and is often seen crooning at a patient's bedside.  Florence Nightingale would be proud.
"Bless him, this makes me cry it's so beautiful"
It is sad that with today's heath standards patients are left often to themselves with no one to talk to but the tv; that is if it is working. Current HIPAA laws ensure that each patient is allowed their medical privacy so many hospitals fill up each room individually before doubling up.  Nursing staff is kept small creating limited time for nurses with each patient, leaving personal interaction at a minimum.  For many patients with few to no visitors, any length of time spent in the hospital can be a lonely experience.
It has been said that "Music soothes the soul" and as an avid music lover, I could not agree more.  Music evokes emotion, memories and takes our mind off of the moment and into another world; small wonder that Jared's patients respond to his singing.  According to Psychology Today:  "singing, listening, and creating music of any kind will provide an immediate biological and psychological benefit for everyone."  Everyone, even the grumpiest most unlikable person you know.
"There's a special place in Heaven for this young man…"
Nurses have to wear many caps and have been known for their caring and compassion.  Sadly, today's nurses are under extreme pressure to perform and many are stressed with large patient loads that hinder their ability to spend any more than the "allotted time" with any patient.  Hugs and hand holding which used to be their trademark have also gone by the wayside due to concerns of sexual misconduct or inappropriate touching causing many sympathetic nurses to pull back and squelch their natural tendency to relieve pain and suffering with a human touch.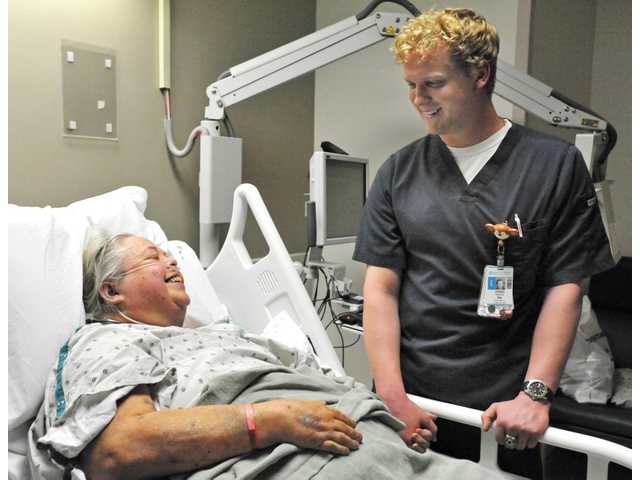 Is Jared an angel of mercy? For many of his patients, yes he is.  For the rest of us, he is an example of someone who brings himself into the workplace, rather than transforming himself into the workplace mold.  Not an easy task for any of us since there are rules, regulations and expectations that seem to dictate our every move once we leave the privacy of our homes.
Another truth that Jared has shown us is that every one of us is capable of such acts of kindness becoming a way of life.
Read:
A smile, holding open a door for someone, or allowing someone ahead of you in line are small changes that can turn someone else's mood around. As an added bonus I have found when I extend an act of kindness it also elevates my mood.  When was the last time you visited a nursing home, hospital or rehab center?  Doesn't the world need a little more love and a lot less hate, anger and frustration?  Each one of us could do more to make the world a better place and it would require very little effort.
In recognition for doing what comes naturally, Jared recently received the seventh annual "Hospital Hero" award which is given to individuals who excel in the workplace and make a difference in the lives of others.
Congratulations Jared and keep up the good work!
Do you think we need more nurses like Jared? Please leave your comments below.