THOUSANDS OF ILLEGAL IMMIGRANTS RELEASED – The United States has experienced another irrational move concerning the handling of illegal immigrants. With budget cuts mandated by every government agency, the U.S. Immigration and Customs Enforcement (ICE) made the decision to release 1,000 illegal immigrant detainees and  prisoners each week until President Obama's goal of reducing the number of those held to 25,000 was reached.
With the expansive news coverage and intense criticism that has accumulated in the past two weeks, the plan has been put on hold until further investigations can be made.  Up to three thousand more detainees were expected to be released by the end of the month.
When President Obama and Homeland Security Secretary, Janet Napolitano were questioned about the release, each denied knowing anything about it.
Anthony Orlando Williams was released after spending 3 years in a Georgia detention center
Detainees are held for minor infractions like expired school/work visas and are often caught as a result of traffic violations. Prisoners are held for the obvious reason being that they committed a crime and were found guilty.  According to some news sources the release was a positive move and one that Mexicans and Latinos are celebrating. Well, no duh!; they are the majority of the ones that were detained. Well, either them or a family member, or a friend or someone they know. I've listed a few of the cited reasons and my response to each.
Myth # 1 Most of these people aren't criminals Many people that wind up in immigration detention are being detained for the civil violation of overstaying a visa and residing in the country illegally. Many others only have minor stains on their records, like traffic violations. Why jail them like criminals?
Fact: While it is true that many detainees are held for minor offenses that is not true of all. Criminals who have been arrested and convicted are also among those who have already been released.   With that numbering over two thousand with even more to be released, I have a hard time believing that there was any type of  protocol and follow through when it came to the selection process.
If it's true, as ICE says, that those released are noncriminals, "it's fair to ask why they were in prison in the first place"- Lawrence Downes,The New York Times
Myth #2 It keeps families together. If there's very little risk of flight and the detainee doesn't have a criminal record, what's the logic in keeping the person separated from his or her family while awaiting deportation proceedings?
Fact: If they are deemed to be in violation of the law and the consequence is being held in a facility, then separation from family becomes part of the punishment. I wonder why the rest of the family was not rounded up and checked out as well. I do agree that they should not be held in detention for more than a month-the border or an airport is close and deportation should be easier to accomplish.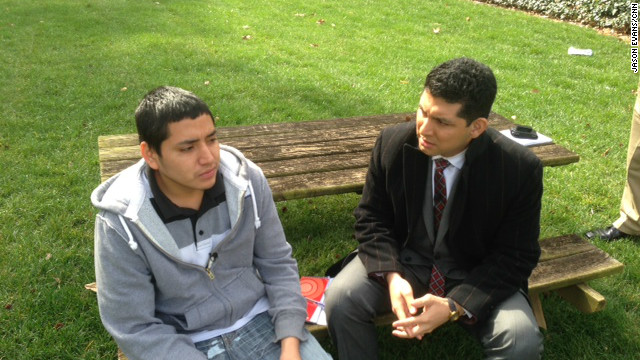 Miguel Hernandez couldn't grasp that he was being freed
Myth #3 It's consistent with the administration's stated goals The Obama administration, which deported a record-setting 409,849 people last year, says it's committed to focusing its enforcement efforts on serious criminals using prosecutorial discretion. So why indiscriminately cram people into detention by the thousands?
Fact: Yes, it does line up with one of the Presidents campaign promises; however no one thought he would seek to accomplish it in this way. He has in fact used the immigrants as a tool in his power play against our country to create fear and to show us once again that he is above reproach.
Texas Republican, Ted Poe calls release of immigrant detainees an 'organized jailbreak'
Myth #4 The border is secure. There are more than 20,000 Border Patrol agents stationed along the border now — about double the number since 2004.
Fact:  Depends on how you define "secure." The borders are more secure than they have been, but they are not as secure as they need to be and with budget cuts the number of border patrol officers will also be reduced. It is clear the administration is using the sequester as a convenient excuse to bow to political pressure from amnesty groups.
U.S. Border Patrol officers
Immigration Reform is desperately needed and by releasing these detainees with no accountability allows them settle back into life or move to another part of the country until they are caught again, for which there is no money to initiate an" illegal alien search team." While there has been talk of using ankle monitoring which is a far more effective and cheaper alternative, they were not purchased and used with these detainees. Clearly, this was a plan that did not consider the consequences and repercussions that we are now facing.
"This reminds me of Fidel Castro's release of criminals in the Mariel Boatlift in 1980." – U.S. Rep. Lou Barletta "
Illegal Immigrant Prisoners
"How many criminals have now been released on our streets? The president shrugs his shoulders and pretends that someone else is responsible. At a certain point, President Obama must take ownership of what goes on in his own administration."    The Washington Post
It is clear the administration is using the sequester as a convenient excuse to bow to political pressure from amnesty groups and with budget cut decisions still being made and put into place, it is my hope that irrational choices such as this will be tabled and sorted through.  Someone needs to be in charge and oversee each and every decision; a task that is obviously too great for this President.