YOUSSIF'S STORY CONTINUES - Depending on how old you are and how much you care for the news you may recall the young boy, Youssif in the video above. Perhaps you remember when CNN reported on his story back in 2007 and how it tore your heart knowing that there was no medical care available for this young boy who had suffered so much.
Maybe you were one of the thousands of people who responded with prayer or a donation that helped to change his life and turn the tragic events of that day in January when a four year old boy was set on fire. Since then, Youssif's story has become one of the most-read, non-breaking news stories in CNN.com's 12 year history.
It was the Children's Burn Foundation in California that made the arrangements and paid for the transportation, medical and housing costs for Youssif and his family and the surgeon who has performed his surgeries donated his time. CNN established a fund to which over $300,000 has been donated.  At just four years of age, young Youssif couldn't grasp the surgeries ahead but excitement over his first plane ride was hard to contain and together with his family he came to America in September, nine months after he had been burned.  He has endured fifteen surgeries since then and is facing several more.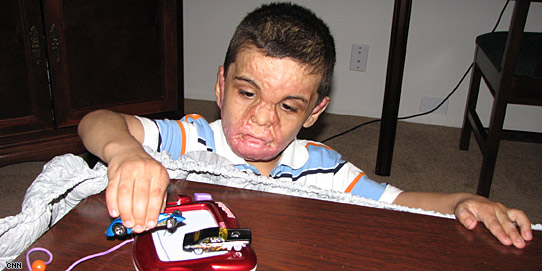 It is sickening that someone could set another person on fire and even more devastating to have it happen to a child.  No information was ever released about a possible motive, whether it was an act of retaliation, punishment for the family or a result of the constant violence seen in Bagdhad.  Today, six years later, no one has been arrested.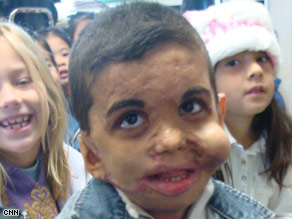 It wasn't an easy decision for Youssif's family to decide to leave their country.  It was their home, and even though no medical help was available for Youssif, coming to the United States has marked them as traitors to their country and they can never return and live there safely.  Having their needs met, the medical bills paid for and being treated by a Jewish doctor all goes against the culture and everything they previously stood for.  It was the love for their son that turned their hearts and allowed them to accept help from outside their faith.
How wonderful it is to see that Youssif and his family have made the transition to life here and that he is doing well in school and appears to be a happy, healthy and well adjusted young man.  When they arrived in the States, it was expected that they would be staying anywhere from six months to a year but he has needed more surgery than what had been previously thought and with concerns for their safety, they were granted asylum in 2010.  Currently his parents are going through the process to become United States citizens.
The courage and love shown by Youssif's parents is a testimony of their commitment to make a better life for their children.  Today Youssif and his sister are doing well in school, enjoy a carefree life filled with friends and have joined the numbers of children who are our future.